Chiang Mai…my my
Is it weird to have a crush on a fabric pattern?  For me, the Chiang Mai pattern by Schumacher was love at first sight.   Here it is, in all its glory: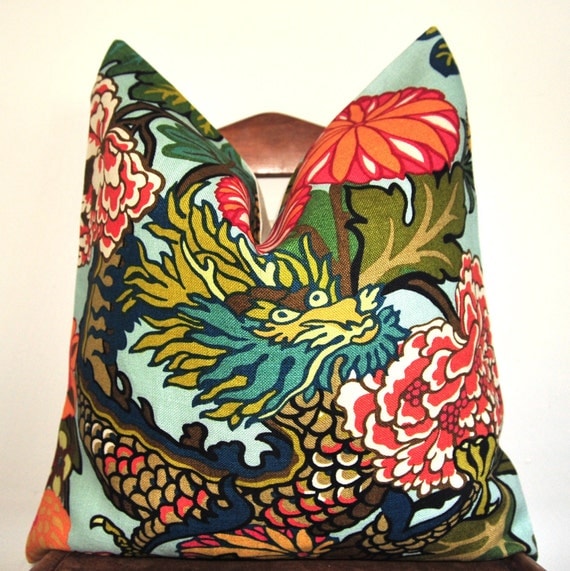 Pretty pops of color, a traditional pattern but a little Chinoiserie edgy… what's not to love?
When I saw the final episode of HGTV's Design Star recently, I just about jumped out of my chair when Danielle, the 2012 Design Star winner, chose a mid-century modern chair covered in Chiang Mai.
I've been plotting and planning to incorporate Chiang Mai throw pillows into my future living room (see the inspiration board here), so I was so excited to see her pick the same fabric!
Here's Danielle in the living room she designed, next to the Chiang Mai chair:
Here's the chair again from a distance, like a little slice of sunshine:
And now, for your viewing pleasure, some Chiang Mai inspiration:
Isn't this chair so striking?  And the red lacquered door is adorable.

Via Chinoiserie Chic
A terrific use of Chiang Mai, layered with other colors and fabrics.  Pillows are by Caitlin Wilson – if you haven't seen her amazing textile shop yet you should definitely check it out!
Via Caitlin Wilson
I'm so obsessed with the fabric, it never occurred to me Chiang Mai could come in a wallpaper too.  I still prefer the fabric, but this is very cheerful and pretty:
Via Lovely Happenings
Decorator and blogger Emily Clark uses the Chiang Mai with a mocha background for her pillows.  So lovely:

Via Emily A Clark
I love this whole look – The sunburst mirror, the sculptured lights, the mix of pattern. I seriously may copy this bedroom piece by piece…
I've used this shot before, when I talk about IKEA's Expedit!  I love this scene – the colors are so punchy.  Doesn't the chair look fantastic?  I think this was taken from from Oprah's Home magazine, years ago.
Chiang Mai is to-the-trade-only so can it can be difficult to get your hands on it, but if you look at Etsy you can find plenty of options for amazing and reasonably priced throw pillows!  That's what I'm going to do.   I know decorators will also sell yards of designer fabric online as well, like this lady on Etsy.