Nate Berkus, Right on Target
I started writing this post about two weeks ago, before the craziness of Hurricane Sandy.  It has just seemed too trivial to post something cheerful and fun as we all witness so much suffering in the wake of the storm.
But as I see others going back to business as usual, I see how trying to maintain normalcy in the face of adversity can be healing and hopeful.  In that spirit, I'll forge ahead…
=======================
I'm such a huge fan of interior designer Nate Berkus.  Do you remember his amazing home makeovers on the Oprah Winfrey show?  Not to mention his perfect hair.  She called him her "cutie patootie".   Ahhhh, how I miss those Oprah days…
So, he goes on to launch his own show, which I have to say was pretty good.  Creative home decor ideas, surprise home makeovers – what's not to like?   I felt so bad for him when his show was cancelled – I'm not kidding!  My heart really went out to him!
Um, apparently I should have spent my time worrying about something else!  Of course, Nate had 800 things up his sleeve.  To begin, look what showed up in my mailbox just last week:
On the cover of November's Architectural Digest?  um, yeah, this guy is doing just fine.  Oh! And then I find out he has a new book, The Things That Matter, and a whole new home decor line at Target.  Have you seen it yet?
"The Nate Berkus Collection" at Target includes all kinds of great finds like jute rugs, an ikat fabric tray, and brass vases: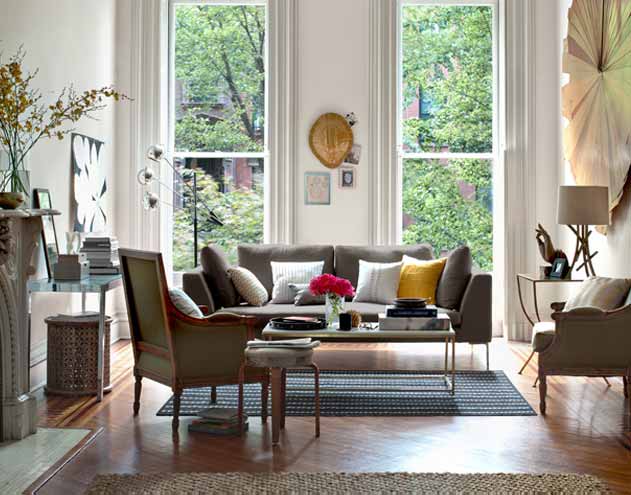 My favorite item has to be the tortoise shell wall accessory:
Here's the cream tortoise shell in Nate's own home:
You can see Nate's signature look in his collection immediately – he always brings in natural elements to provide texture and interest, he loves bold, graphic prints, and there's a real eclectic mix of media (brass, silver, natural woven materials, shells…).
I ran to Target to scope out the Nate Berkus Booty.  My favorite item was the tortoise shell by far, but I just don't have a place for it right now.  So I ended up coming home with two of the picture frames – a "bone" one and a ceramic one.
Testing them out in our living room for now – they really do look super expensive.  You'd never guess that they cost $14.99 and $12.99.  Isn't that amazing?
I always love finding something that looks "high" but costs "low".  And I know Nate is the same – that's why I love him so…