On The Cheap…My Hunt for a Zebra Rug
So I've had in my mind for a while that I'd like a faux zebra rug in my living room.  I am mad about this "layered" look – a sisal or sea grass rug, with a zebra rug sort of tossed on top:
Via House Beautiful
Via Cote de Texas
I started by falling in love with this faux zebra rug from Shades of Light.  It's cowhide, and I liked that it was "antiqued".  It costs a pretty penny at over $800, but I fell in love with a picture of it I saw in House Beautiful a few months ago, and I basically decided I just had to have it:
Acid wash zebra rug, Shades of Light, $828
Before I pulled the trigger though I knew I should do more research… and I'm so glad I did.   WOW the prices really vary out there, and I'm here to tell you that the product is often very much the same!
Design Within Reach sells a faux zebra rug for $2300 – yikes!  Turns out the cowhide is from Italy, not from Brazil, where most of the other retailers buy their product.   I don't know, the rug seems nice enough but I prefer the other patterns I saw out there…

Zebra Cowhide Rug, Design Within Reach, ~$2300
Here's one I found on Etsy for $360: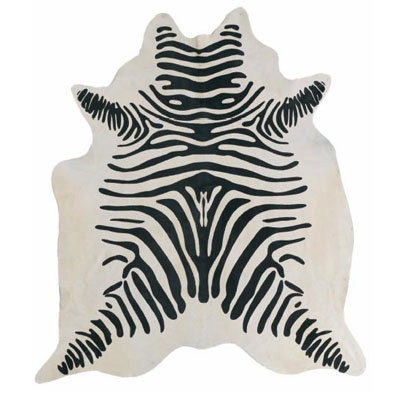 Zebra Cowhide Rug, Loft32, Via Etsy, $360
And Williams Sonoma sells a similar looking rug for about $1000:
Via Williams Sonoma zebra rug, $995
So what did I end up choosing?  I actually purchased my fabulous faux zebra rug from cowhidesinternational.com, for $299!!  I'm telling you it's the sweetest little company out of Broken Arrow, Oklahoma, and they provided the most awesome service.
I love this rug. It does the trick and lends the right effect.  Here's the rug in its new home:
I'm tickled to death that I found a "low" option for what could have potentially been very, very "high"!
Do you have any fun "low" items you've purchased for your home that could have very easily been "high"??  I'm dying to hear!