Trend Alert: Campaign Furniture
I know what I'm about to tell you is not really news – campaign furniture is the hottest thing going right now.  And I just can't get enough!  Some of you are thinking, "what the heck is "campaign furniture?"
I give you exhibit number one:
via Lonny
See the trademark brass hardware, the brackets on the corners?   It's a dead giveaway that you have some awesome campaign furniture on your hands.
Originally, campaign furniture was collapsible and transportable, so high level military folk could bring their dressers and nightstands with them on their military campaigns.
It's actually pretty hilarious if you think about these British officers dragging their fabulous dark wood furniture across Africa and India – talk about kicking it old school.
These days, campaign furniture tends to be traditional in feel with a little Chinoiserie, Palm Beach 1970s kick.  Here are some great examples:
via Vivid Hue Home, from Lilly Pulitzer's home line at High Point 2012
I'm loving all the DIY campaign furniture-making activity recently.  Everywhere I turn there's another blogger turning an IKEA dresser into something really fabulous:
TA DA!
via For Chic's Sake
Determined to get a little campaign furniture action in my own life, I purchased two Devon Campaign nightstands from Pottery Barn for our master:
Via Pottery Barn
I know, it's sort of unimaginative of me to go the easy, Pottery Barn route.  But these tables have great bones and they're well made so I'm pretty pleased.  The only disappointment is that the hardware isn't brass like in the catalog picture!  It's virtually black!  So unless you're looking closely, it's hard to see the pretty corner brackets, which is sort of the POINT.  Mark my words, I am some day going to repaint these puppies and turn that hardware into something fabulous and brassy.
Until then, I'll just have to dream….  And admire everyone else's hard work…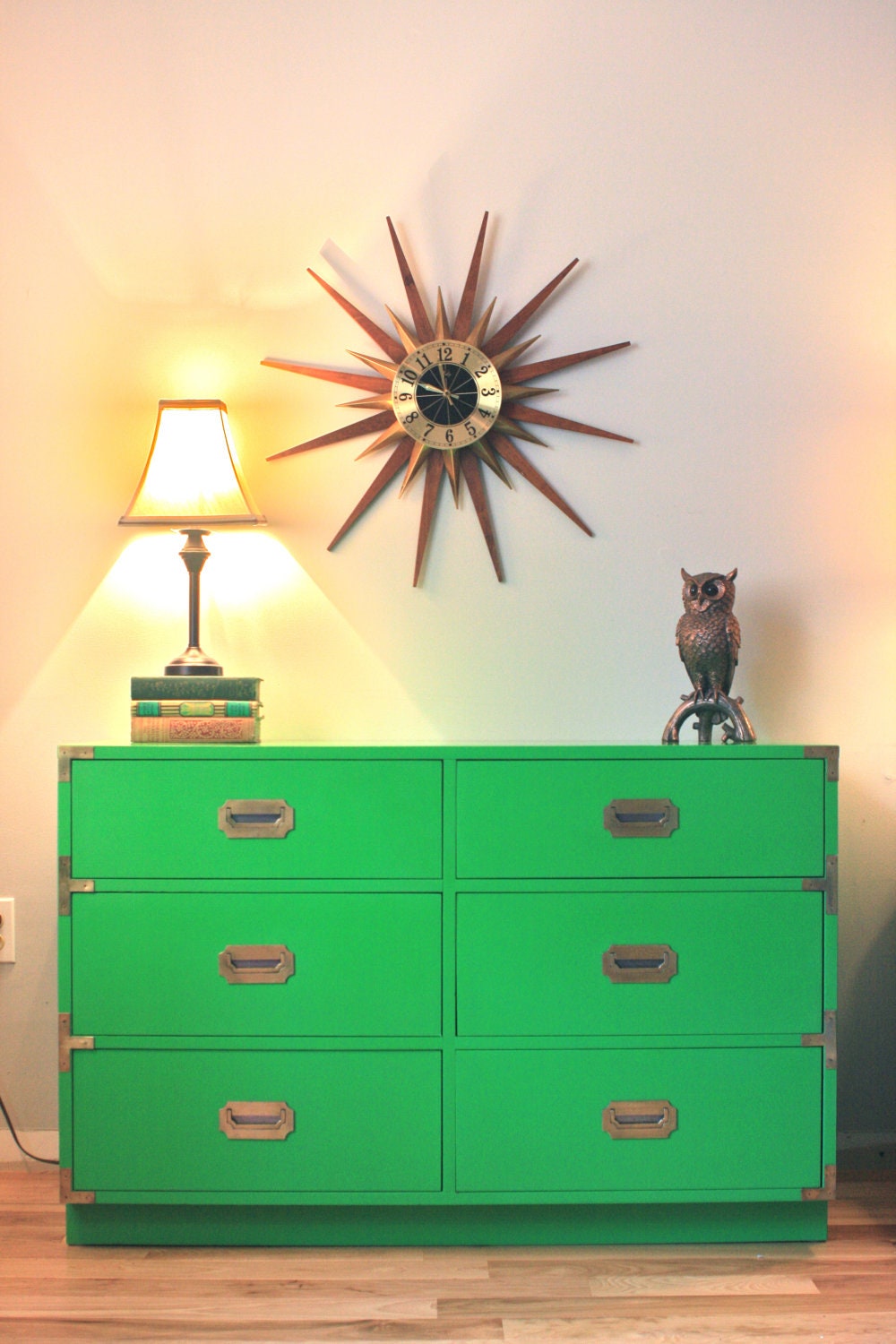 via Etsy