Trends That Stick: The Chinese Garden Stool
If you've turned on HGTV or glanced at an interior design magazine lately, chances are you've spotted a Chinese Garden Stool.  Seems like every time I turn around, there they are staring back at me.  It's the trend that keeps on giving!
My absolute *favorite* part about a garden stool is that all kinds of high-end uber expensive homes have them, but anyone can have access to them (thanks to a wide range of prices!).
Garden stools provide great versatility (need some quick seating or a place to put your drink?), not to mention they are handsome:
A blue & white garden stool is pretty traditional, but here it fits so nicely in an otherwise modern space:
Another great blue & white version.  You don't always have to rely on throw pillows to inject some color:
If you look closely, you can see that this white stool is very expensive.  The "knobs" are pronounced and the holes are cut very cleanly:
Sisal rug, Ikat print and a chrome garden stool…makes my heart go pitter pat.
What a room!  The gold stools are like little gold earrings – discreet, but they make the outfit.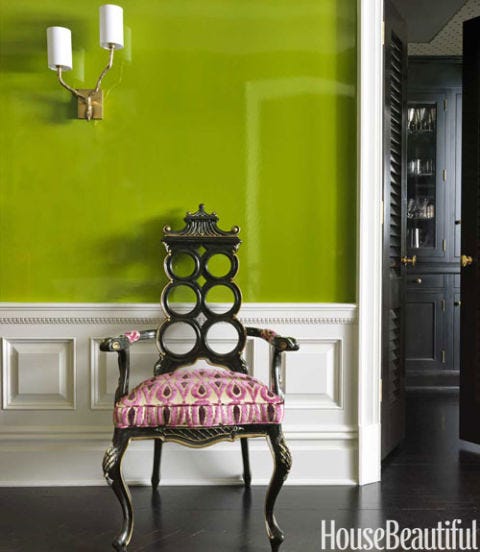 This was on the cover of House Beautiful fairly recently.  See how the stools provide a nice small spot to rest your drink or iPhone?
Cool idea for a bathroom:
And by the way, these things come in all kinds of wonderful styles.  Like this:
But I have to admit, my favorite style is the "drum stool":
The price tag for a garden stool varies widely.  Check out this beautiful orange lacquer version, for a whopping $418:
$418, The Well Appointed House
One Kings Lane often sells high-quality garden stools for about $120, which would otherwise retail for about $300: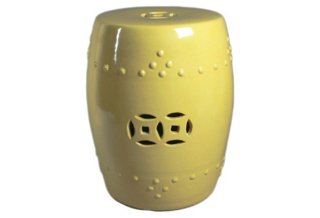 Yellow Garden Stool, $119, One Kings Lane
This is a pretty blue & white version, and the price is nice at $119:
Lacquered Floral Blue & White Porcelain Garden Stool, $119, Oriental Furniture
Ballard Designs has a nice green color.  But I don't know that I would pull the trigger at $149:
Garden Seat, $149, Ballard Designs
Other good resources?  Wisteria has a great assortment of stools for about $129, Overstock  also has stools in the $110-120 range.  The cheapest I found was on Walmart.com for $98!
I purchased a chrome garden stool at none other than Amazon.com.  Yes, it's true!  I loved the price tag ($112, which includes tax + shipping).  And I love the way it looks:
 Chrome Garden Stool, $112, Amazon.com
It's fun to think I could have bought basically the same stool for $300 or $400.  HA!  I so love a good bargain… happy garden stool shopping everyone!